Whether you're looking into palliative care for yourself or a loved one, you probably have many questions.

What is palliative care? 

What's the difference between palliative care vs. hospice care? 

What are the benefits of palliative care?
Here's what you need to know about palliative care.
Palliative care is
specialized
medical care for people at any stage of a serious illness. It focuses on providing relief from stress and symptoms of the illness to improve life for both the patient and their family.
Based on the patient's needs rather than their prognosis, palliative care is provided by a specially trained team of nurses, doctors, and specialists working together with a patient's other doctors to offer an additional layer of support.
What Is Included in Palliative Care?
Palliative care includes things like :
Symptom management

Advice and support

Home help with meals, transportation, and shopping

Referrals to other doctors to help you manage physical or emotional symptoms

Care techniques that improve your sense of well-being and comfort

Educating family members about the illness, medications, and treatment

Advanced care planning

Respite care for caregivers
When should someone be offered palliative care?
Palliative care is appropriate for people at any stage of a serious disease such as cancer, chronic obstructive pulmonary disease, dementia, heart failure, Huntingdon's disease, MS, kidney disease, liver disease, organ failure, Parkinson's disease or stroke. With the goal of improving quality of life; increase overall comfort; provide emotional support for client and the family.
What Is Hospice Care?
Hospice care is a type of palliative care that focuses on the comfort, care, and quality of life of a person with a serious illness who has less than 6 months to live and has chosen to stop pursuing treatment that may extend their life.
Palliative Care Vs. Hospice Care
Since hospice care is a type of palliative care, there is much overlap between the two care types. However, with palliative care, a patient can continue treatments to battle their illness and try to overcome it or extend their life. Hospice care is only available to people who a doctor has said have less than 6 months to live and who have chosen to stop any treatments that may extend their life.
Read the kind words from previous clients. Our testimonials help families discover how dedicated we are to customer satisfaction.
Considering home care in the Parkland County area? Learn how we can help your aging loved one live their best life in the safety of their home.
When Should Someone Be Offered Palliative Care?
Palliative care is appropriate for people at any stage of a serious disease such as cancer, HIV/AIDS, Alzheimer's, dementia, Parkinson's disease, chronic obstructive pulmonary disease (COPD), heart disease, cystic fibrosis, lung disease, kidney failure, or stroke.
When Is it Time to Switch from Palliative Care to Hospice Care?
Hospice care is specifically for people whose doctor has told them they likely have less than 6 months to live and who have decided not to pursue further life-prolonging treatment.
Providing exceptional Palliative Care at Home for seniors and families in Spruce Grove, Stony Plain, Devon, St. Albert, Edmonton, Onoway, Leduc, Parkland County and surrounding areas.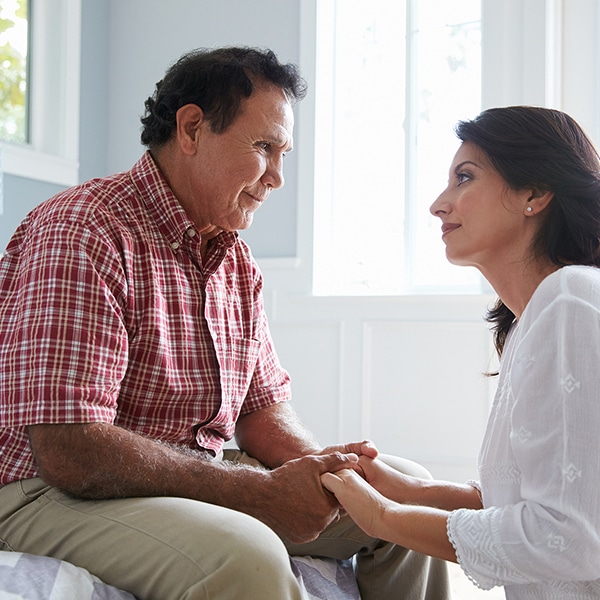 What Issues Are Addressed With Palliative Care?
Palliative care addresses many issues. These are some of the top areas palliative care helps people with:
Physical
In addition to helping people manage symptoms of their illness, palliative care can also help people experiencing severe side effects from their treatment. Types of physical symptoms palliative care may address include pain, loss of appetite, vomiting, nausea, fatigue, shortness of breath, and insomnia.
Spiritual
Some people find being diagnosed with a severe, potentially life-threatening disease brings them closer to their religion, while others may start questioning their faith.
Emotional and Coping
Anxiety, depression, fear, and other emotions often accompany a new diagnosis. Palliative care experts can help connect patients and their families to resources that can help them cope with these emotions.
Practical Needs
Palliative care specialists can help with practical needs like insurance questions, legal or financial concerns, employment worries, and discussing care goals.
Caregiver Needs
Family members caring for a person with a severe illness also have needs that palliative care can assist with, such as respite care and emotional support.
Benefits of Palliative Care
Palliative care has been shown to have numerous benefits. While much of the research centres around patients with cancer, palliative care is appropriate and helpful for many types of severe illnesses.
Improved Quality of Life
One of the most significant benefits of palliative care is an improved quality of life. According to the authors of one study:
"Among patients with metastatic non-small-cell lung cancer, early palliative care led to significant improvements in both quality of life and mood. As compared with patients receiving standard care, patients receiving early palliative care had less aggressive care at the end of life but longer survival."
Helps You Match Treatment Options to Your Goals
A palliative care team can help you match your goals with your treatment options and pass your wishes along to your doctors and the rest of your care team, giving you more control over the care you receive.
Relieves Suffering from Stress and Symptoms
Palliative care helps relieve symptoms caused by the disease itself, treatment of the illness, and the stress you or your loved one may be experiencing while fighting the illness. This, in turn, helps improve the patient's quality of life.
Works Together With Other Treatments
Since it works together with other treatments (rather than replacing them) and helps coordinate all your doctors, palliative care can help make your treatment more effective and easier to bear.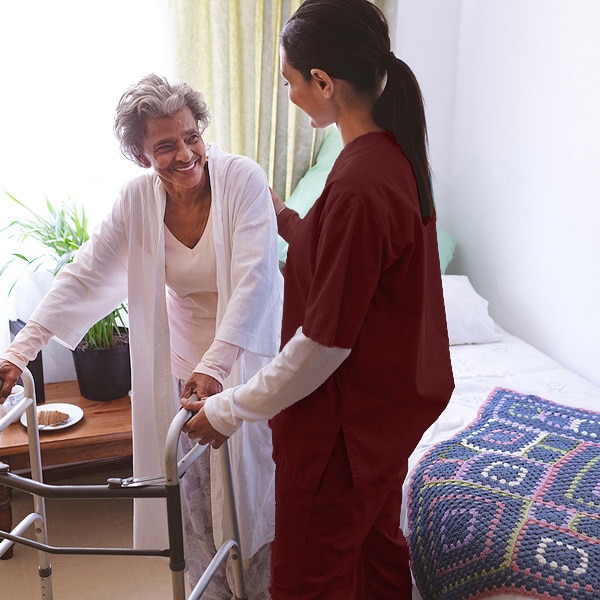 Frequently Asked Questions About Palliative Care at Home
Learn what sets us apart from the rest. Our mission, vision, values and training have allowed us to shine above the rest.
Serving Hands Senior Care provides 24-hour home care, skilled nursing and compassionate caregivers so you have the peace of mind knowing your loved ones are covered.
What to Look for When Hiring a Home Health Palliative Care Provider
When looking for a palliative home health care provider, here are some questions you should ask:
Are you

licenced

?

What type of employee screening do you do?

Do your home health aides have references?

How do you train and monitor caregivers?

How do you handle billing?

When will services be provided?
Types of Palliative Care We Provide
Personal Care Services
Respite Care

Bathing, Grooming & Hygiene

Oral Care

Dressing, Undressing

Wheelchair/walker assistance & Transfers

Ambulation Assistance

Incontinence Care, Toileting Assistance

Medication Reminders & Assistance

Healthy Meal Preparation

Feeding Assistance

Light Housekeeping & Laundry

Errands & Grocery Shopping

Comforting Companionship (sharing a good book, games, movies)
Companionship – at home, hospital or care facility
Sharing a good book/newspaper

Watching a movie, playing card games

Encouraging exercise

Medication reminders

Preparing/sharing a meal, including clean up
Homemaking Services
Light housekeeping

Laundry

Changing bed linens
Other Services:
Snow Removal

Companion Transportation